The Green Team
Badgemore's own team for raising awareness of environmental issues
Congratulations!
The Green Team are thrilled to announce that Badgemore has achieved and passed our targets for level 3. Well done and a big thank you, not only to the children who sent in posters and letters, but also to parents and carers who helped with the homework. We are now working on passing our level 4 targets. We are well on the way to becoming a Plastic Free School!
We have identified 3 single use plastics that we intend to eliminate from school:
cling film
single use plastic bottles
single use plastic bags
Now we need your help!
Every Tuesday starting from 01/01/23 will be plastic free lunch day. On this day, if your child(ren) brings in a packed lunch, please try to avoid:
cling film
plastic sandwich bags
single use plastic bottles
The Green Team will be monitoring lunch boxes on that day. Every child who brings in a lunch box with none of the 3 single use plastics, will earn a house point.
Alternatives you can use:
tin foil
paper
compartmentalised lunch boxes with no waste
cloth, washable sandwich wrappers (video on how to make your own)
re-useable drink bottles
Please give it a go and join in!
So why are we doing this?
Click here to view a message from Plastic Free School who have inspired Badgemore to make these positive changes.
Below is a message from last term's Green Team
/Community/green_team_/4155b5f5-8552-4b91-b84d-32d496d7f6b5.mp4
We hope you can help us!
New Team Members
A warm welcome to this year's current Green Team. Thank you to all the children who put themselves forward. We are blown away with the number of children that welcome these positive changes to their school.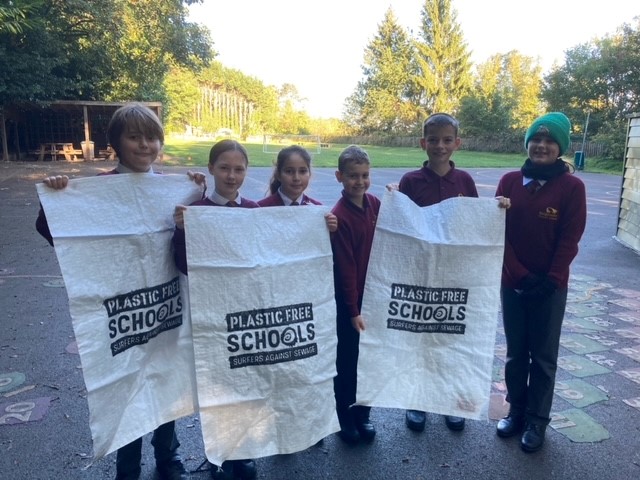 Other news
Bins
The Green Team have also been busy labelling 3 bins in each class for:
food waste
recycling
general
We are trying very hard to encourage children to take care of resources and not create rubbish in the first place.
Next Steps
In future we will be looking at other areas where we can reduce plastic and will be contacting politicians and businesses to persuade them to do more.
Watch this space!